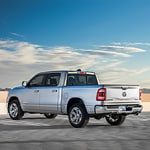 Pickup truck drivers often travel on tough terrain and, sometimes, during harsh weather. Concerns arise about the vehicle's ability to deal with the elements The Ram 1500 provides incredible durability features for a light-duty pickup. Once you look at its durability features, you'll understand why the safe and strong 1500 continues to be popular.
Many design and manufacturing details contribute to durability. The 14.9-inch largest-in-class brakes might not be the most visually obvious, but drivers can feel their performance. Even when hauling heavy loads, the brakes work hard to stop the truck.
What is visually apparent is the Ram 1500's body. Made from 98% high-powered steel, the Ram stands out. Super-strong steel also adds a valuable safety aspect, which drivers should appreciate. The added tech safety features are also positives.
Looking at the Ram 1500 in a Cheshire showroom is one thing, driving it is another. How about coming to Bedard Bros. Chrysler Jeep Dodge to set up a test drive?