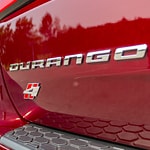 When looking for a great SUV, the performance features of the Dodge Durango might be an option you want to check out. The Dodge Durango places emphasis on the driving experience with a couple of performance features that stand out in particular.
Towing trailers and heavy loads may require getting a solid control on the trailer or load, to reduce sway and help the engine run more efficiently. The Dodge Durango has a system that applies alternating brake pressure to the load wheels for better stability and is matched by the adjusting engine throttle. This combination provides extra controls for those heavy loads.
Now that we're talking about power, let's take a look at the weight distribution design for the Dodge Durango. The ratio is 50/50 for the weight distribution with the rear-wheel drive. This setup improves the balance to top-tier and shifts the load to the back for better traction when needed. Experiencing the performance features of the Dodge Durango can be simply done by taking a Dodge Durango for a test drive at your earliest convenience.